The Other War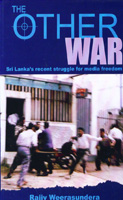 Author
Rajiv Weerasundera
ISBN
9789556651379
Publisher
Vijitha Yapa Book Shop
Pages
293
Size
210 mm X 145
Weight
475 g.
Our Price
Rs. 990.00
The events recorded in this important and timely book reflect a very difficult and dangerous time for the press in Sri Lanka.

The main part of the story describes in detail how the then President of Sri Lanka, Ms Chandrika Kumaratunga, accused The Sunday Times and its editor of scandalous gossip, The politics, the media and the law interact with each other in Sri Lanka Physical violence and being charged with criminal defamation were among the occupational hazards of being a journalist. It is also a tale of legal wrangles, constitutional conundrums and a saga of political intrigue.But the story does not end there....

This book is an attempt to relate that story with the hope that it will be of interest not only to those in the media and in the legal profession but also to the 'average' person with an abiding interest in democratic freedoms.